LED PAR 18x10W IP65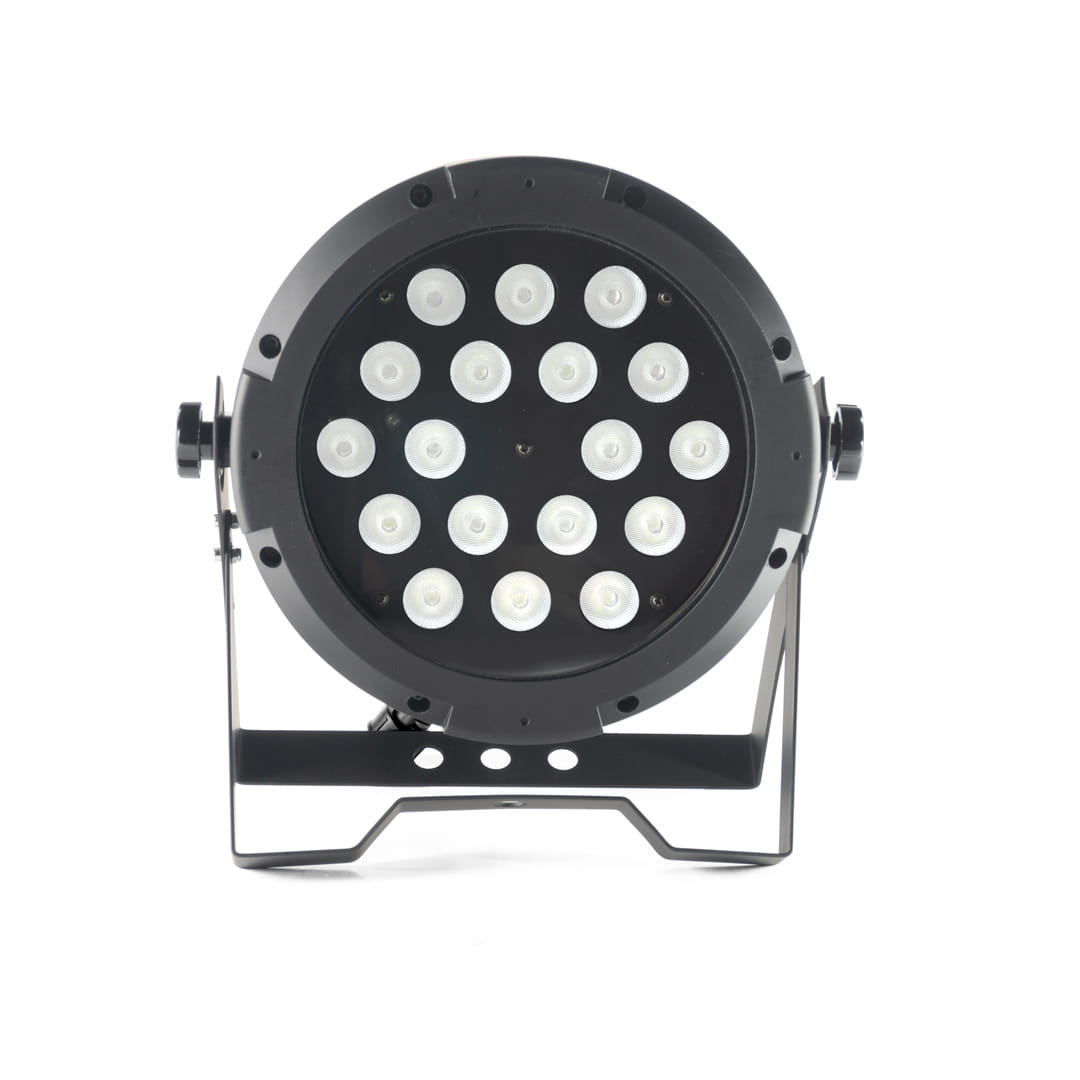 This device is designed to provide extraordinarily technology and very high power LED. It is designed for outdoor use, for example to illuminate the facades of buildings. It can display static colors, and change the colors in automatic mode. The device uses powerful RGBW LEDs that dramatically improve the color mixing and extends color palette. The LED PAR 18x10W IP65 is equipped with dedicated waterproof connectors that make this fixture suitable for outdoor use due to the protective grade of IP65.
No cooling fans - perfectly quiet operation
Connecting cables intended for use outdoors
Dedicated protective caps against the ingress of moisture into not connected cables
Ability to connect up to 10 devices in series
WARNING! The device must be connected to the power supply in order to avoid condensation.
Technical data
| | |
| --- | --- |
| -------- TECHNICAL DATA -------- | |
| Power consumption | 140W |
| Power supply voltage | 110 - 240V |
| Voltage frequency | 50/60Hz |
| Fuse | F5AL |
| Diode type | 4in1 |
| Diode power | 10W |
| Display | LED - 4 characters |
| Number of diodes | 18 |
| -------- UTILITY DATA -------- | |
| Color | RGBW |
| Luminous flux | 3 000 lux |
| Beam angle (min) | 25° |
| Beam angle (max) | 25° |
| Dimming | Linear: 0 - 100% |
| Number of DMX channels | 4/8 |
| DMX standard | DMX 512 |
| Control interface | 4 buttons |
| Operating modes | DMX512, Auto, Sound-controlled, Master / Slave |
| -------- INTERFACES -------- | |
| AC IN | dedicated IP65 power plug |
| AC OUT | dedicated IP65 power plug |
| DMX IN | dedicated IP65 DMX plug |
| DMX OUT | dedicated IP65 DMX plug |
| ----- PHYSICAL CHARACTERISTICS ----- | |
| IP Rating | IP65 |
| Housing made | Aluminum |
| Height [cm] | 30 |
| Width [cm] | 29 |
| Depth [cm] | 29 |
| Weight [kg] | 5 |
Các tin cùng chủ đề